Recent Developments:
Indonesia's president has ordered an all-out effort to find the KRI Nanggala-402 in a race against time to save the 53 crew, whose oxygen supply was only expected to last another 24 hours.
Yudo Margono, the navy chief of staff, said the search was being aided by calm conditions but the crew's air supply would last only until Saturday. "Hopefully, oxygen will suffice before they are found," he told a press conference in Bali, adding that the submarines were licensed and in good condition.
Indonesian navy said its ships had found an unidentified object at a depth of 50-100 meters (165-330ft) and that officials hoped it was the submarine. Now waiting for a navy ship with underwater detection facilities to arrive in the area before they could investigate further.
The US defense department said that US has sent "airborne assets" to assist in the submarine search.
Australia is sending two ships – a frigate and a support ship – to help the search for the missing Indonesian submarine KRI Nanggala.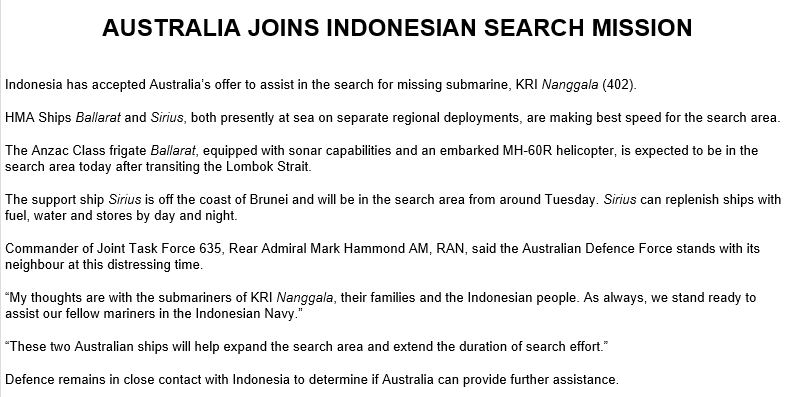 The diesel-powered KRI Nanggala 402 was participating in a training exercise on Wednesday when it missed a scheduled reporting call. Officials reported an oil slick and the smell of diesel fuel near the starting position of its last dive, about 96km (60 miles) north of Bali, though there was no conclusive evidence that they were linked to the submarine.
---
Check out Naval Library App to find out the specifications of KRI Nanggala 402